Fabrication Shop in Dorr, MI
K & D Welding/Fab, LLC provides high-quality welding services, specializing in custom fabrication, new and rebuilt metal products, and maintenance and repair welds. We are your trusted, local welders! We provide timely service and competitive pricing to meet your job needs.
Your Reliable Steel Fabricators & Welders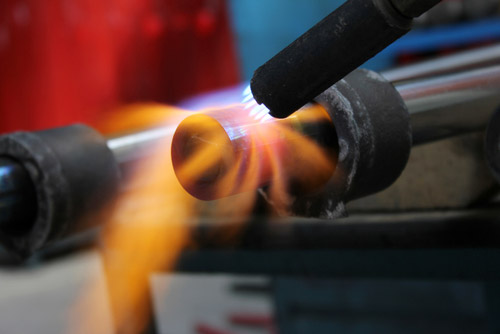 K & D Welding/Fab, LLC brings nearly three decades of experience to every project. Locally owned and operated, we offer all of our clients a first-class customer experience to ensure your 100% satisfaction. This combination of knowledge and superior service has made K & D Welding/Fab, LLC the leader in fabrication shops in Dorr, Burnips, Moline, Allegan County, and Kentwood, MI. Just ask any of our industrial clients, such as Buhler Prince Inc, M.W. Watermark Inc, Midwest Vibro Inc, Koops Inc, or Burnips Equipment Company. Whether it's custom or standard fabrications, maintenance, repair or rebuilt products, our customers know they can count on us for reliable and affordable service. We listen to your needs, then work hard to meet them. It's why we consistently exceed customer expectations and enjoy an established reputation for quality service.
At K & D Welding/Fab, LLC, we know you can't trust just any welders in Dorr, MI. You need quality expertise to ensure the job is done right, the first time. As an industry leader of steel fabricators, we are American Welding Society (AWS) D11 Certified and fully insured. When you bring your project to K & D Welding/Fab, LLC, you can rest assured it's in capable hands. We deliver impeccable results, every time. We invite you to join our long list of satisfied customers throughout the region and take advantage of our many service benefits:
We are a locally owned and operated fabrication shop, established in 2004.
We have been working in the industry since 1987.
We are American Welding Society (AWS) D11 Certified and fully insured.
We specialize in industrial and agricultural needs.
90% of our work is custom free-hand fabrication.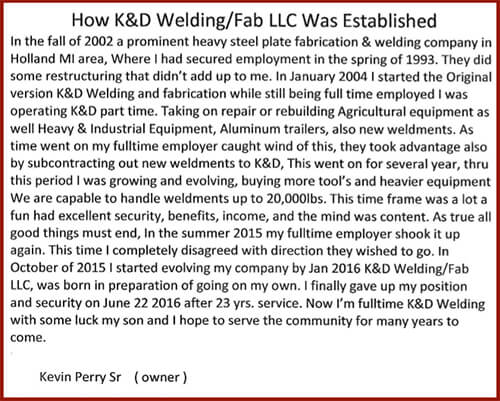 Weld It Right
For work from a team of welders that will stand the test of time, contact your trusted professional steel fabricators at K & D Welding/Fab, LLC today.
Proudly Serving
Dorr Township, MI
Burnips, MI
Byron Center, MI
Grand Rapids, MI
Holland, MI
Allegan, MI