K & D Welding/Fab, LLC has the knowledge, experience and equipment to meet all your custom welding fabrication needs. From maintenance, to repair, to rebuilds, to brand new products, our experts craft the high-quality parts you need to get the job done right. Our full line of welding services and custom fabrication work includes: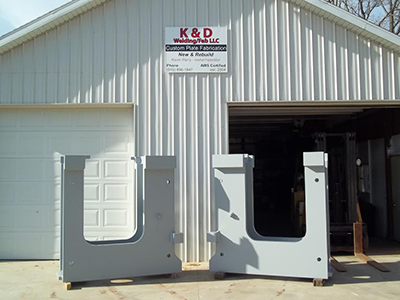 Custom fabrication: We use a detailed processed to cut, bend and assemble the exact parts and structures you need. We specialize in custom plate welding fabrication in Dorr, MI.
Heavy plate metal fabrication/heavy plate weldments: Do you need heavy-duty solutions for big jobs? We offer quality results in heavy metal fabrication that will stand the test of time.
Industrial: Your facility has unique needs that require specialized knowledge of machinery. K & D Welding/Fab, LLC offers expertise in industrial needs.
Agricultural: At K & D Welding/Fab, LLC, we know you rely on your machinery to keep operations running smoothly. That's why we provide top-end solutions built to last.
New and rebuild: Whether you need something custom-made or reconstructed, our experts bring extensive expertise to handle every job, big or small. It's why we are the go-to source for welding services in Dorr, MI.
Carbon steel welding services/Stainless steel fabrication: Steel is economical and versatile. It presents a wide range of mechanical uses. We employ the detailed techniques required to get the most out of this valuable method of steel fabrication.
Aluminum: Do you need aluminum products? Our certified experts are skilled at aluminum custom fabrication in Dorr, MI.
Heavy equipment: We are your trusted source to handle all your heavy equipment needs. We weld and fabricate agricultural equipment, machine components, bulldozers, loaders, combines, hay rakes, trailers, components for water filtration machines, aluminum semi-trailers and loader buckets.
Complete machining parts: We offer sandblasting, priming, and finish painting services. With contacts with 2 machine shops in the area, you can get a completely finished product!
K & D Welding/Fab, LLC offers the expert welding services you need for your next custom job in Dorr, Burnips, Moline, Allegan County, and Kentwood, MI. Contact our professional welding experts today at 616-896-1847 to get started.